When I first brought my Coastal Scents Ultra Shimmer 88 Eyeshadow Palette I mentioned on a blog I would be reviewing the product, but have only just got around to it. I have been using this palette almost daily since I brought it, and it's still staying strong.
So the palette is all about colour and shimmer, with each shadow being the size of a 5 pence piece (or a dime). I have found they do crumble a bit, but are long-lasting and really highly pigmented. When used with a primer, these shimmer shadows will stay throughout the day while still looking newly applied.
Out of nearly 900 reviews, the product has scored 5 stars. If you would like to read some of these reviews, click
here
.
I have found that my eyes are more suited to the far right and left sides of the palette, as I find some of the colours throughout the center un-wearable on a day-to-day basis. I would not wear shimmers daily, which is why I am contemplating buying the original 'half satin, half matte' palette. I usually wear the browns, golds and greys as they can be mixed to create the perfect smokey eye.
You should definitely get this palette, especially if you don't know which colours are best on your eyes. You can play around with the palette to see which colours work best, and which you should stay clear of. Perfect for a girly make-over with your friends or a night out; as the colours are bright, bold and shimmery.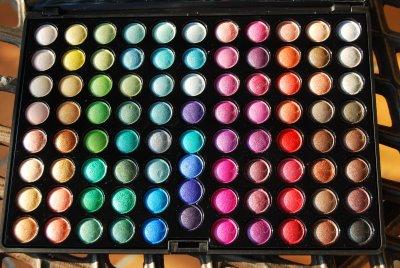 (image sourced from here)
Coastal scents also offers many other palettes, such as;
- Warm Palette
- Metal Mania Palette
- Original Palette
- Blush & Contour Palette
.. and you can even
make your own palette
, where you buy hot pots to fit into an empty palette (they can also be used for your MAC eyeshadows).
I hope you like this review, and if there is anything you would like to know just leave me a comment. (: